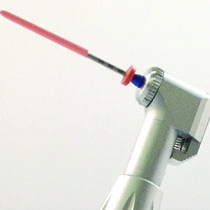 Quick-Fill™
Alpha phase gutta percha on a specially designed titanium carrier. The Quick-Fill provides a smooth controlled obturation all in a single step. Plastification occurs from friction heat without any preheating or open flames. Designed to fit most regular R/A slow speed handpieces. Available in 21 & 25mm, sizes 15 thru 60, assorted and in kits.


No heating unit or open flame.
Works with friction heat.
Chairside efficiency.

For instructions click here.


Quick-Fill KIT

Contains:

32 Quick-Fill obturators (8pkg of 4pcs)

1 Plastic practice block

1 Instructions

| | | |
| --- | --- | --- |
| Product Description | 21mm | 25mm |
| Quick-Fill Kit | 1Q1INT | 1Q5INT |




Order

Quick-Fill Packaged in box of 4.

| | | |
| --- | --- | --- |
| Product Description | 21mm | 25mm |
| #15 | 1Q1015 | 1Q5015 |
| #20 | 1Q1020 | 1Q5020 |
| #25 | 1Q1025 | 1Q5025 |
| #30 | 1Q1030 | 1Q5030 |
| #35 | 1Q1035 | 1Q5035 |
| #40 | 1Q1040 | 1Q5040 |
| #50 | 1Q1050 | 1Q5050 |
| #60 | 1Q1060 | 1Q5060 |
| #15-30 Asst | 1Q1153 | 1Q5153 |
| #35-60 Asst | 1Q1356 | 1Q5356 |




Order