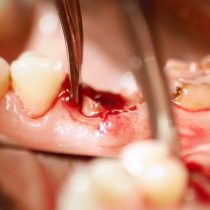 LM Extraction Instruments
The exceptionally ergonomic luxating instruments, LM-LiftOut and LM-SlimLift, allow extraction to be done as atraumatically as possible. This is important to enable rapid healing and future implant placement. The robust LM-TwistOut elevators work best when more force and torque are needed. The light-weight and well-balanced ergonomic design make these instruments comfortable to hold and easy to rotate. The secure LM-ErgoTouch surface provides a good, non-slip grip. The LM-DuraGradeMAX™ supersteel guarantees strong and sharp blades.

All instruments sold in sterilizable cassettes that can be color-coded. Cassette is also sold separately. Keep your instruments sharp with the Sharpening Stone.


LM-LiftOut luxating instrument

The tip of the instrument is introduced into the periodontal space and slowly advanced toward the apex of the root while moving the instrument gently back and forth.

LiftOut is not suitable for use as an elevator.

| | |
| --- | --- |
| Product Description | Item # |
| LiftOut S2 - 2.5mm Straight | LM812220 |
| LiftOut S3 - 3mm Straight | LM812230 |
| LiftOut S4 - 4mm Straight | LM812240 |
| LiftOut S5 - 5mm Straight | LM812250 |
| LiftOut C3 - 3mm Curved | LM812430 |
| LiftOut C4 - 4mm Curved | LM812440 |
| LiftOut C5 - 5mm Curved | LM812450 |




Order

LM-SlimLift luxating instruments

The SlimLift instruments are designed to reach very narrow spaces. The extremely slim tip of the instrument is introduced into the very narrow periodontal space and slowly advanced toward the apex of the root while turning the instrument gently back and forth.

SlimLift is not suitable for use as an elevator.

| | |
| --- | --- |
| Product Description | Item # |
| SlimLift S3 - 3mm Straight | LM812630 |
| SlimLift S4 - 4mm Straight | LM812640 |
| SlimLift S5 - 5mm Straight | LM812650 |
| SlimLift C3 - 3mm Curved | LM812830 |
| SlimLift C4 - 4mm Curved | LM812840 |
| SlimLift C5 - 5mm Curved | LM812850 |




Order

LM-TwistOut elevators

Designed for extractions where strong force, torque or twist must be applied.

| | |
| --- | --- |
| Product Description | Item # |
| TwistOut S3 - 3mm Straight | LM814230 |
| TwistOut S4 - 4mm Straight | LM814240 |
| TwistOut S5 - 5mm Straight | LM814250 |
| TwistOut C3 - 3mm Curved | LM814430 |
| TwistOut C4 - 4mm Curved | LM814440 |
| TwistOut C5 - 5mm Curved | LM814450 |




Order

LM-RootOut

Designed for delicate root tip teasing procedures. Great handle ergonomics for secure grip and maximum control. Extremely delicate instrument.

| | |
| --- | --- |
| Product Description | Item # |
| RootOut S1 | LM812210 |




Order

Root Tip Pick

For removal of root tips in difficult-to-reach areas.

| | |
| --- | --- |
| Product Description | Item # |
| Root Tip Pick - double ended with ErgoMax handle | LM769-771 |




Order

Cassette

Extra sterilizable cassette. Can be color-coded.

| | |
| --- | --- |
| Product Description | Item # |
| Cassette - sterilizable and can be color coded | LM810001 |




Order

Sharpening Stone

Keep your instruments sharp with this round sharpening stone.

| | |
| --- | --- |
| Product Description | Item # |
| Sharpening Stone | LM818002 |




Order